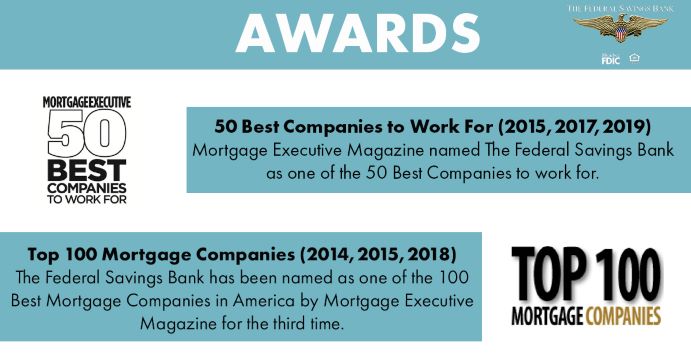 The Federal Savings Bank, a national bank and "50 Best Companies to Work For" winner is currently seeking mortgage professionals with 1-2 years experience to assist with the purchasing of mortgage loans as a Suspense Coordinator or Agency Auditor. The Suspense Coordinator's primary responsibility will be to clear all investor conditions for purchase with a focus on efficiency, speed, and quality. The ideal candidate will be based in Chicago area, however, we are open to remote candidates that have mortgage industry experience!
Duties and Responsibilities:
Review loan files that have been suspended by investors after being shipped out
Rebut invalid suspense issues with respective investors
Work to get suspended loans sold before allotted investor due dates
Maintain a pipeline of 30 + loans at various volume levels
Communicate with all divisions of the bank to obtain necessary documentation in a timely fashion
Work effectively under specific time constraints
Work independently and as a team
Operate and prioritize in a fast paced environment
Job Requirements:
Associates degree or commensurate mortgage experience
Favorable credit history and background
Applicants must demonstrate attention to detail, the ability to multitask, and a strict adherence to deadlines
Experience with the following platforms is preferred: Encompass, Imaging system, Word, Excel, Internet, and Investor Websites
Knowledge of general mortgage industry guidelines as well as standard loan documentation preferred
Flexible with work schedules especially during peak volume periods & month end.
Good communication skills both inside/outside the organization
Must be an overall awesome person with a great sense of humor!
What We Offer:
Salary plus monthly bonus
Generous Vacation days and sick days
Health, Dental, and Vision insurance plans available
50% 401k match
Employee appreciation events (Pizza days, Food Truck days, Pajama day, annual Halloween costume contest, and holiday parties just to name a few)
Ongoing in-house training opportunities to broaden your industry knowledge
Employee recognition on a national scale
Small bank culture with big bank capabilities
The Federal Savings Bank is an equal opportunity employer that respects its employees and understands that our success is derived from hiring individuals with true character and a focus on Efficiency, Quality and Productivity.
Website
The Federal Savings Bank is an equal opportunity employer. All applicants will be considered for employment without attention to race, color, religion, sex, sexual orientation, gender identity, national origin, veteran or disability status