Tired of expensive state licensing? Lend in all 50 states from our Indianapolis, IN loan production office (Remote Loan officers also welcome)! The Federal Savings Bank is a veteran-owned, federally chartered private bank with 35+ loan production offices nationwide. We seek experienced retail loan originators who wish to take their business to the next level with our cutting edge mortgage app, digital closing software, and marketing CRM. Only experienced Mortgage Bankers will be contacted.
Contact Jeanette Zaragoza for details:
Office: (312) 637-3309
Email: jzaragoza@thefederalsavingsbank.com
What We Offer:
Ability to lend in all 50 states without the hassle of state licensing
Robust marketing support program(s), mobile app, custom design requests, and the Total Xpert (Eagle Eye) marketing CRM give LOs the edge they need
Latest technology: Blend and Snap E-Close technology allows borrowers to send, receive, and sign documents digitally and securely
Experienced and highly trained operations staff (ALL 100% IN HOUSE).
Shared or dedicated Mortgage Banker Assistants available
Liquidity and loan programs for every borrower: FHA/VA, Conventional, USDA, Jumbo, 203k and Renovation, Portfolio, Condos/Co-ops, Construction, HECM's, Multi Family, Commercial, Personal Lending and more!
Strong Secondary Department with 50+ investor relationships and direct seller to Fannie Mae and Freddie Mac; Ginnie Mae approved
Bank-issued laptops create a secure environment for Bankers working in an office or remotely
Extremely competitive pricing and compensation plans
More Reasons to Join:
Mentoring available to Sales Managers and Originators looking to grow their business and expand their teams. We will help you revamp your business plan!
Unique company culture where originators are encouraged to build their own brand while leveraging The Federal Savings Bank platform
National Employee Appreciation Events
Annual Chairman's Club trips open to top-performing LOs and Operations team members!
401k matching & Medical, Dental, and Vision insurance plans available
Job Requirements:
Minimum of three years of mortgage lending or retail mortgage banking experience
Three or more new purchase loans per month
Well-developed referral base, including realtors, past clients, financial planners, attorneys and/or accountants
College degree or equivalent work or military experience preferred
Knowledge of real estate market in local area
Knowledge of FHA, VA, FNMA, FHLMC guidelines
Favorable credit history and background check
We are seeking experienced Mortgage Professionals with a minimum of 3 years of experience and actively working in the retail mortgage banking industry. Only qualified candidates will be considered.
Contact Jeanette Zaragoza for details:
Office: (312) 637-3309
Email: jzaragoza@thefederalsavingsbank.com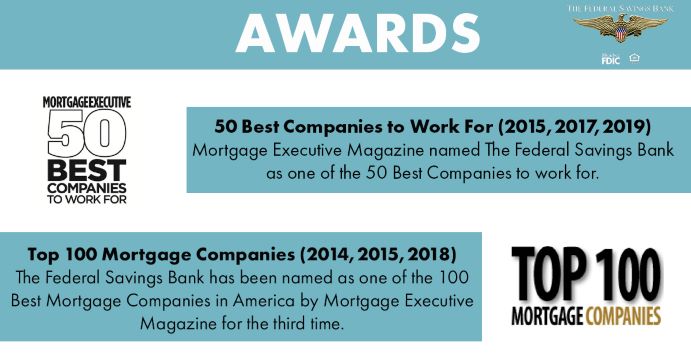 Website
The Federal Savings Bank is an equal opportunity employer. All applicants will be considered for employment without attention to race, color, religion, sex, sexual orientation, gender identity, national origin, veteran or disability status