The Federal Savings Bank, a national bank and 4-time "50 Best Mortgage Companies to Work For" winner, is actively searching for an experienced loan processing professional to assist with the timely processing of residential mortgage loans for the upcoming Chandler, AZ office.
What We Offer:
Competitive salary plus an industry-leading bonus plan

Generous vacation days and sick days

Health, Dental, and Vision insurance plans are available

401k matching

Company-wide Employee Appreciation Events (Pizza Days, Empanada Days, Costume contests, holiday parties, and more!)

Virtual classroom training modules to broaden your industry knowledge

An amazing & unique culture; small-bank feel with big bank capabilities!
Our senior loan processing role is known as the "Underwriting Analyst". The Underwriting Analyst's primary goal is to have first-time approval from Underwriting with minimal conditions. It is the responsibility of the Underwriting Analyst to review, analyze, and submit loan documents to Underwriting based on agency, investor, and company guidelines with a focus on efficiency and quality.
Duties and Responsibilities:
Set and maintain proper expectations with all parties on the loan file

Communicate with Borrowers, Junior Processing Analysts, and Bankers to obtain required loan documentation

Analyze package for completeness to ensure loan file meets investor guidelines

Analyze credit, income, asset, and collateral documents and submit files to underwriting

Calculate income for qualifying, including self-employed income analysis if needed

Clear loan conditions and communicate effectively with the Sales, Processing, and Underwriting team

Analyze Underwriting approval

Collaborate with Closing Processing Analysts to review & analyze title for all requirements and address issues, insurance coverage for the mortgage

Daily utilization of "Encompass" loan origination systems and automated underwriting systems "DU/LP"

Effectively manage loan pipeline at various volume levels

Complete internal compliance certification programs on applicable State/Federal regulations

Assist in the seamless transition of new Mortgage Bankers and operations employees to our model

Work effectively under specific time constraints and meet end-of-month deadlines

Operate in a fast-paced environment

Complete Bank's customer service training and apply principles to everyday communications with borrowers and mortgage bankers
Job Requirements:
High school degree required

3 + years of recent Residential Mortgage Processing experience required

Recent Correspondent Lending experience preferred

Knowledge of agency & investor loan programs and underwriting criteria for government and conventional offerings required

Experience managing a pipeline of 40+ Purchase and Refinance loans

Proficiency with Encompass loan origination software preferred

Proficiency with Automated Underwriting Systems; DU/LP

Detail-Oriented & Solution-Oriented

Excellent Interpersonal, Communication, and Time Management Skills

Ability to maintain composure and operate effectively in high-pressure situations

Ability to calculate income, including self-employed

Ability to work well in a team environment, a team-player

All applicants must be flexible with their schedules, as they may be required to work after-hours, especially during peak volume periods

Bilingual or Multilingual professionals are always a plus!
Employee Benefits:
Base Salary commensurate with experience, plus bonus

Generous paid time off, plus sick days

Comprehensive Health, Dental, and Vision insurance plans available; includes company paid life insurance

Competitive Flex Spending Accounts (FSAs)

Employee Assistance programs (EAPs) for financial planning, emotional support, legal guidance, and work-life solutions

Robust 401k matching

Employee appreciation events

Employee recognition on a national scale

A true team culture working towards one common goal; helping homebuyers finance their dream homes!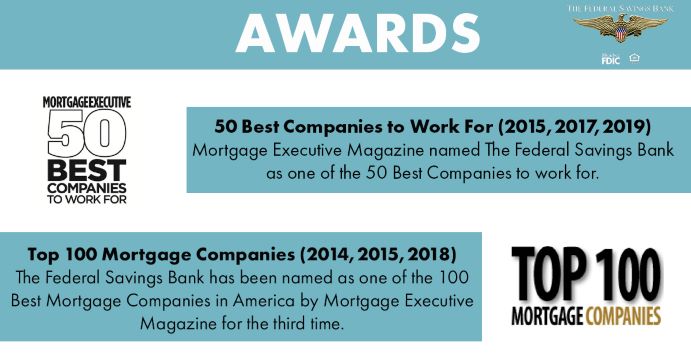 The Federal Savings Bank is an equal opportunity employer that respects its employees and understands that our success is derived from hiring individuals with true character and a focus on Efficiency, Quality, and Productivity.
Website
The Federal Savings Bank is an equal opportunity employer. All applicants will be considered for employment without attention to race, color, religion, sex, sexual orientation, gender identity, national origin, veteran or disability status