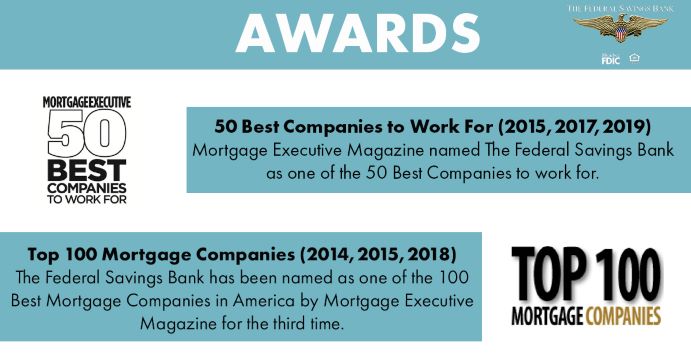 The Federal Savings Bank, a national bank and "50 Best Companies to Work For" winner is currently seeking a Collateral Underwriter for our Appraisal Management department. The Collateral Underwriter at TFSB plays an important role in supplementing our frontline Underwriters in reviewing and evaluating appraisals. This position reports to our SVP of Appraisal Management.
Duties and Responsibilities:
Fully understand workflow within Mercury Network (appraisal platform) and Encompass so you can navigate in both platforms

Manage a daily pipeline of appraisals

Devise opinion on quality of appraisal and justification used by the Appraiser in determining a valuation

Review appraisal to determine if any revisions or updates are needed by the Appraiser

Keep informed on updates to Agency (FNMA & FHLMC), FHA, and VA appraisal guidelines
Job Requirements:
4-year degree or commensurate mortgage experience

2+ years' recent experience in Collateral Underwriting or Frontline Underwriting

Favorable credit history and background

Applicants must demonstrate attention to detail, the ability to multitask, and a strict adherence to deadlines

Proficiency with Microsoft Office Suite

Knowledge of all appraisal guidelines and AIR requirements

SAR and/or DE or appraisal or appraiser review experience strongly preferred

Flexible with work schedules especially during peak volume periods & month-end

Excellent communication skills both inside and outside the organization

Must be an overall awesome person with a great sense of humor!
What We Offer:
Remote/work from home benefit

Base Salary and room for career advancement

Generous Vacation days and sick days

Health, Dental, and Vision insurance plans available

50% 401k match

Employee appreciation events (Pizza Days, Food Truck Days, Pajama Day, annual Halloween costume contest, and holiday parties just to name a few)

Ongoing in-house training opportunities to sharpen your saw

Employee recognition on a national scale

Small bank culture with big bank capabilities!
The Federal Savings Bank is an equal opportunity employer that respects its employees and understands that our success is derived from hiring individuals with true character and a focus on Efficiency, Quality and Productivity.
Website
The Federal Savings Bank is an equal opportunity employer. All applicants will be considered for employment without attention to race, color, religion, sex, sexual orientation, gender identity, national origin, veteran or disability status